For God's Sake!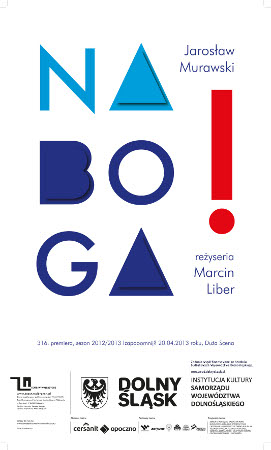 PREMIERE:
20th April 2013,
Main Stage
direction: Marcin Liber
dramaturgy: Michał Pabian
scenography and costumes: Grupa Mixer
music: Aleksandra Gryka
music workout: Małgorzata Sarbak
light: Mirek Kaczmarek
director's assistant: Tomasz Kaczorowski
Casting:
Małgorzata Białek [guest actor], Angelika Cegielska /​ Ewelina Żak, Sara Celler – Jezierska, Karolina Krawiec, Joanna Łaga­nowska, Małgorzata Łakomska [guest actor], Rozalia Mierzicka, Irena Wójcik, Mirosława Żak, Włodzimierz Dyła [guest actor], Rafał Kosowski, Piotr Mokrzycki, Filip Perkowski, Dariusz Skowroński, Czesław Skwarek, Piotr Tokarz, Ryszard Węgrzyn
Liber and Murawski ask important questions about a great religious narration role in constructing our collective identity and about ethical considerations in community life. At the same time they force us to take a closer look at our national tradition and bleak contemporary times. They painfully and bitterly talk about Poland and Polish folk religiousness. Watching Wałbrzych performance, it is noticeable, that all those philosophically-theological deliberations, fundamental questions about freedom, good and evil, guilt and forgiveness become nutrient for ideological arguments, a tool of mutual objectification, rejection of a different, an unfamiliar and not seeking its subjectivity. This religiousness, still comprising an important element of symbolic order, exist, at best, in a shallow, tawdry style, as a prosthesis of national complexes, as a demotic theatre of weathercocks, media sermonizer, and at worst – as an oppressive and shaping element of a contemporary and particular political struggle, one of harmful and expelling martyrdom.
Michał Centkowski, "Judas Gospel, or Mother of God was Poland"
"Nowa Siła Krytyczna", 30.10. 2013